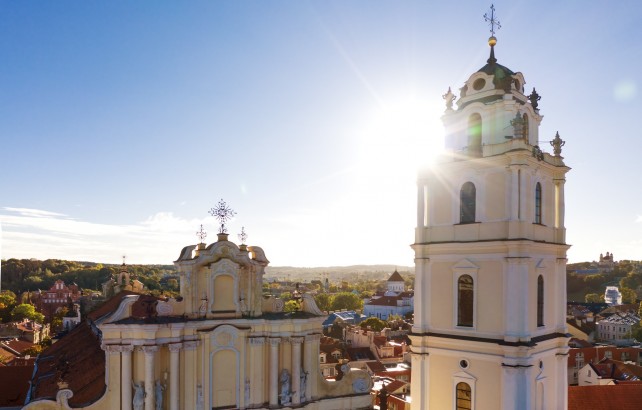 Three distinguished scholars, Professor Bruno Robert (France), Professor Andrew Bush (United Kingdom), and Professor Thomas Chung-Kuang Yang (Taiwan), will be inaugurated as Honorary Doctors of Vilnius University (VU) at Saint Johns' Church on 10 May, at 3.00 p.m. They are recognized for their close scholarly ties with Vilnius University in the fields of medicine, biophysics, and chemical engineering.
According to the Rector, VU cooperates with many of the world's research institutions, hundreds of researchers come to or go from the University every year, and the University is a member of the Arqus European University Alliance. "But among all these different contacts, there are always exceptional cooperation stories and experiences. The partnership, which spans decades, involves various forms of cooperation and eventually becomes part of the cultural and academic diplomacy between countries. From today, there will be even more of the UK, France, and Taiwan at our university and in our country," says the Rector of Vilnius University Professor Rimvydas Petrauskas.
Professor Bruno Robert, a member of the French Alternative Energies and Atomic Energy Commission and head of the Institute for Integrative Biology of the Cell at Paris-Sud University, has been awarded the VU honorary doctorate for his important work in the fields of chemical physics and biophysics, and in particular for his research on photosynthesis.
Professor Bruno Robert is internationally renowned for his achievements in the development and application of Raman and electron spectroscopy techniques to the studies of molecular systems. He did his research at Harvard University in the group of Nobel laureate Martin Karplus. More recently, he has started developing an original microscopy technique to achieve high resolution.
Professor Andrew Bush, a UK-based scientist, Head of the Centre for Paediatrics and Child Health at Imperial College London, Chief Scientist Emeritus at the National Heart and Lung Institute, and children's consultant respiratory doctor at the Royal Brompton Hospital in London, has been awarded the VU honorary doctorate for his outstanding research on the human response to environmental stresses and his early research into the cellular and molecular markers of bronchial asthma as a model of chronic illness.
Professor Andrew Bush made a significant contribution to the transformation of children's healthcare in Lithuania. He was a key consultant for the first pediatric pulmonology residency program at the Faculty of Medicine at VU and contributed to the establishment of the first Cystic Fibrosis Centre in Lithuania. Professor still provides free consultations to Lithuanian children with severe and chronic illnesses in Vilnius and London, and in 2019 he initiated the creation of a remote e-consultation platform for children, connecting the VU's Clinic of Children's Diseases with the Royal Brompton Hospital in London.
Professor Thomas Chung-Kuang Yang, Vice President of the National Taipei University of Technology in Taiwan and distinguished professor at the Department of Chemical Engineering and Biotechnology, has been awarded the VU honorary doctorate for his significant work in the fields of materials science, chemical engineering, and nanotechnology.
Professor Thomas Chung-Kuang Yang is an international expert in chemical nanoengineering. For his important research achievements and the development of close scholarly relationships between Lithuania and Taiwan Professor Thomas Chung-Kuang Yang was awarded the Theodor Von Grotthuss Medal of the Lithuanian Academy of Sciences.
Professor is credited with introducing the latest methodologies and technologies that have initiated a breakthrough in the development of advanced nanotechnologies in Lithuania.
An honorary doctorate is a title awarded by universities or other institutions of higher education to individuals for outstanding contributions to the development of activities consistent with the mission of the university. The VU honorary doctorate has been awarded since 1979. Currently, the University has 64 international honorary doctors, including two Nobel Prize winners and France president Emmanuel Macron.
All are welcome to attend the ceremony.